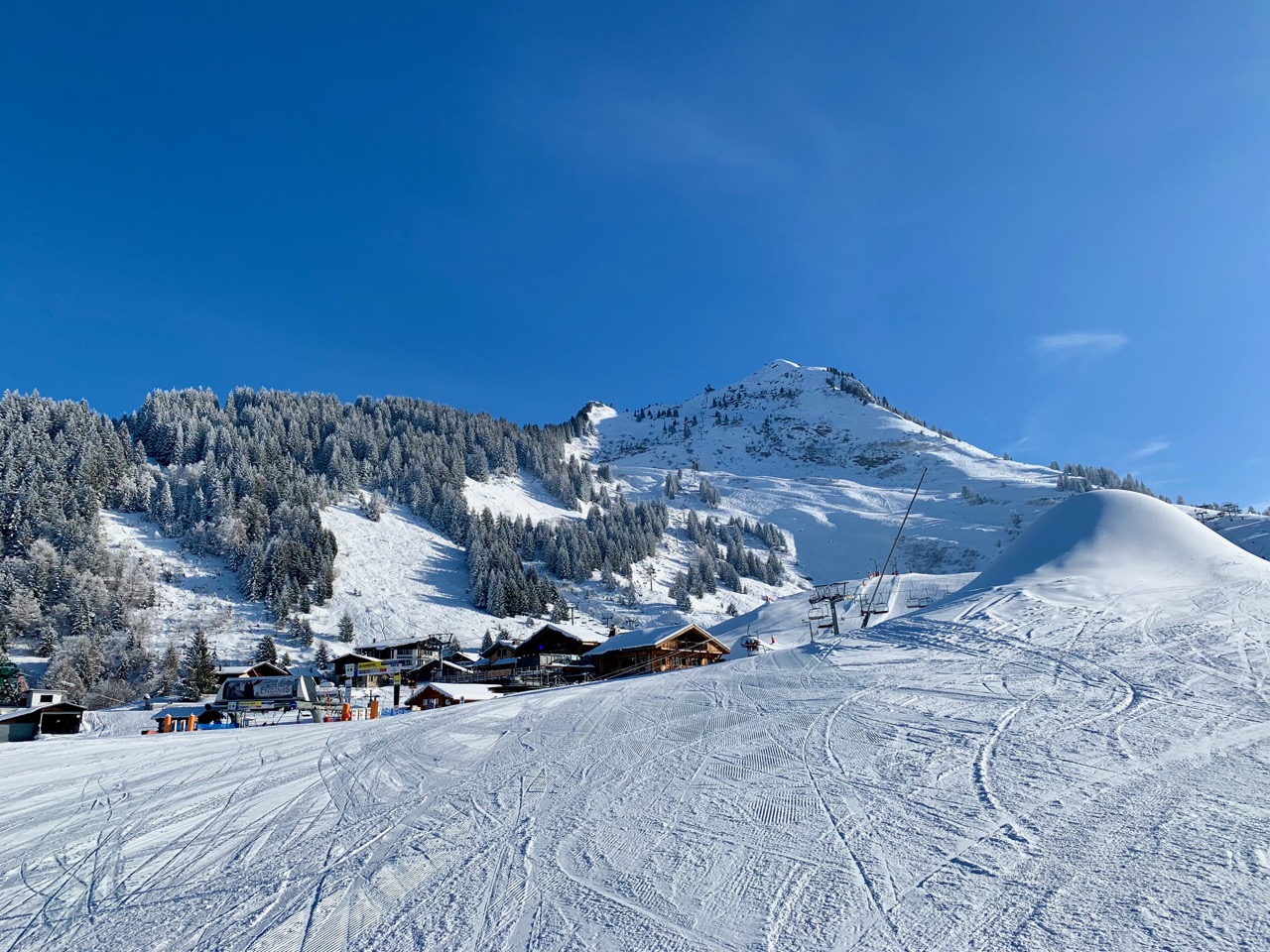 The original vision for the Inter-Livery Skiing Competition, which we still stand by today, was for it to be as inclusive as it could be. Whilst it is a competitive event, Companies and Team Captains are encouraged to pick their teams to include a range of abilities and age of skiers. There are prizes for many different categories, so please don't think it is an event for the young and speedy only.
Frequently Asked Questions
About Morzine as a town

Morzine is a picturesque old-style Savoyard town with a bustling town centre, which has retained much of its character, charm and strong French flavour with excellent facilities for après ski. The town offers a great selection of shops and over 30 restaurants as well as a good choice of non-skiing activities. In recent years, there have been concerns about the amount of snow in January, but we have a strong relationship with ESF and are confident that they will always find us some snow covered slopes to compete on.
Getting there

Morzine is about 90 minutes drive from Geneva airport which is served by many low cost airlines (visit www.easyjet.com). Easyjet operate flights from all over the UK to Geneva including from Aberdeen, Belfast, Birmingham, Bournemouth, Bristol, Edinburgh, Glasgow, Leeds Bradford, Liverpool, Gatwick, Luton, Southend, Stanstead, Manchester and Newcastle. Prices start from about £50 each way but they become more expensive as time goes on. Morzine is about 8 hours by car from Calais. Transfers from Geneva Airport take about 1hr 30 mins. See the Deals & Discounts page for discounted transfer deals.
Accommodation

There are a range of options, including hotels, chalets, appartments or even AirBnb.

If you're struggling to find somewhere, the Morzine Tourist Office are happy to assist with accommodation – visit www.morzine-avoriaz.com / www.resa-morzine.com). Call Sabrina on +33 450 74 72 72 or email to promotion@morzine-avoriaz.com and mention Livery Skiing.
Skiing in Morzine

Morzine is a great family resort, connecting with about 250 pistes offering a vast area of varied skiing to suit all abilities. Among the other resorts in the Portes du Soleil which straddles France and Switzerland are Avoriaz, Chatel, Les Gets, Morgins and Champery to name but a few. The ski pass for the entire Portes du Soleil area which includes all these additional runs does cost a bit more but may be worth getting if you are out for the whole week.

For the three days of competition, the Morzine/Les Gets pass will be all you will need.

We are sometimes able to secure a discount on lift passes – details will be available on the Deals & Discounts page nearer the time.

Morzine lies in the heart of the massive Portes du Soleil ski region of the French Savoie Alps, half way between Lake Geneva and Mont Blanc. The Portes du Soleil is the largest internationally linked ski area in the world with a total of 14 resorts to provide an enormous 650 km of skiing and therefore is suitable for mixed ability groups. Morzine has something for everyone; it is especially a true favourite for mixed ability groups, snowboarders and families. It is the closest of the major alpine ski resorts to Geneva airport with a transfer time of about an hour and a half.

The main and original ski area, which links with Les Gets, is easily accessed from Morzine by the Pleney lift. The ski area is a large but relatively gentle area with many easy greens, blues and reds plus a few blacks on Chamossière, La Rosta and Mont-Chéry. Once you have explored the three major areas of Pleney, Nyon and Les Chavannes, a short walk or free Snow-Train through Les Gets takes you to the bottom of the Mont-Chéry Telecabine. All these areas are covered by the Morzine/Les Gets ski pass. A good piste map can be found at https://www.onthesnow.co.uk/northern-alps/les-gets/pistemap.html
Who can take part?

Race entry is open to all members of Livery Companies and their guests as it is a great opportunity to bring friends and family along to race or watch and join in the evenings entertainment. We want to encourage skiers of all standards to compete, whatever their ability and age (minimum 18), so if you haven't raced before, now could be the perfect time to have a go. The emphasis is definitely on having fun in an atmosphere of light-hearted, friendly competition.

We will do everything possible to keep the costs low in order to encourage as many younger liverymen and women as possible to be involved.

Everyone races as an individual, but if your Livery Company has more than 3 members racing then the fastest 3 will get a team result as well as individual places. If a company has more than 6 members racing, they could get 2 team results etc. Guests may race as individuals but not as team members.

Standards in previous years have varied from highly appealing to fairly appalling and we hope this will continue! The event's popularity is increasing so don't delay in registering if you wish to take part, as numbers could be limited.
How much does it cost to enter?

For 2024, the Early Bird cost to attend is £175 for Racers and £125 for Supporters.

After 1st December 2023 the entry fees increase to £225 for Racers and £175 for Supporters.
How do I pay my entry fees?

Entry fees must be collected by your Team Captain and transferred to the Ironmongers in one transaction using the account details below.

Account Name: Worshipful Company of Ironmongers Corporate Account – Sort Code: 20-20-14 – Account Number: 60514284 – Reference: company plus ski e.g. "Ironmongers Ski"
What does my entry fee include?

The fees to join the ILSC includes both days racing for racers and both evenings entertainment for all.
How do I get onto a team?

Each Company will have an allocated Team Captain who is responsible for organising the Team. Please contact them in the first instance to express your interest. If you do not know who your Team Captain is, please contact your Company Clerk.

If you're from a Company that hasn't raced before and creating a new team, please let us know and we'll help get you up and running.
What are my responsibilities as a Team Captain?

As a Team Captain, it is your responsibility to recruit your team. Please select as inclusively as possible and remember we have a limit on spaces, so it is fairly normal to have to disappoint people every now and again. Teams should be no more than 6 or 9 racers and are always allocated spaces on a first come first served basis. It is your responsibility to collect all the entry fees from your team members and transfer in one payment to the Ironmongers Company.

Payment must be sent to:

Worshipful Company of Ironmongers Corporate Account – Sort Code: 20-20-14 – Account Number: 60514284 – Reference: Company plus ski e.g. "Ironmongers Ski"
Are there any deals or discounts?

Yes. We have arranged some great savings & discounts on essentials like Airport Transfers, Ski Hire, Lift Passes and Insurance.

Details can be found here Deals & Discounts
What format do the evenings take?

On Thursday we will be hosting a Drinks Party at Hôtel Club Le Crêt from 6.30pm until 8pm, so please book your dinner reservations for afterwards. They will provide a selection of wines and canapés. Dress is Smart Casual.

On Friday evening, we will be hosting our Prize Giving and Dinner, again in Hôtel Club Le Crêt. Dress is 'Ski Resort' Smart.

Drinks at 6.30pm – Prize Giving at 7pm – Dinner at 8pm

Hôtel Club Le Crêt, 905 Route De La Plagne • 74110 MORZINE
What charities does the event support?

As in previous years, we aim to raise money from the event for the Lord Mayor's Appeal.

However, because we all enjoy the mountains and snow sports so much, we felt that it was a great idea to do something extra for a charity specifically to do with winter sports. We chose Snow Camp – https://www.snow-camp.org.uk and, if you look at their site, I hope that you will agree that their cause is very appropriate for us.

Snow Camp will be organising their very successful Team Triathlon again for 2024, and we wholeheartedly encourage you to enter as many teams as you can. The Triathlon consists of a short slalom race, a biathlon shooting competition and snowshoe trek. Next January there will be a choice of two routes for the snowshoe lap (the easier option comes with a small time penalty) so that all ages and abilities are catered for. There will be prizes for the winning teams and also for the teams that have raised the most sponsorship.

Here is a link to the site they have created for us: snow-camp.org.uk/events/ilscteamtriathlon2024
Can I wear my favourite lycra ski racing suit?

Sadly not to race in.

We have decided to ban lycra all-in-one racing suits to emphasise and encourage the 'amateur' atmosphere we want to promote.
Can I snowboard?

Yes you can.

But as this competition is designed primarily for skiers, there will be no special allowances made on the courses, gates or times.
What is the standard of skiing?

Standards in previous years have varied from highly appealing to fairly appalling and we hope this will continue! As long as you are able to ski down a red run on an icy day you should be able to enjoy our events.