2024 Race Programme
Wednesday
10:00-15:30: Snow Camp Team Triathlon
Thursday
12:00-16:00: Slalom Qualifying Racing
Friday
09:00-12:00: Giant Slalom Racing
Ski or Board* or mixture of both
Race Numbers & Start Times
Thursday Qualifying – Start times will be posted here
Friday Racing – Seeding and start times will be posted here
---
Results & Finishing Times
Thursday Qualifying Results – click here
Friday Race Results – click here
---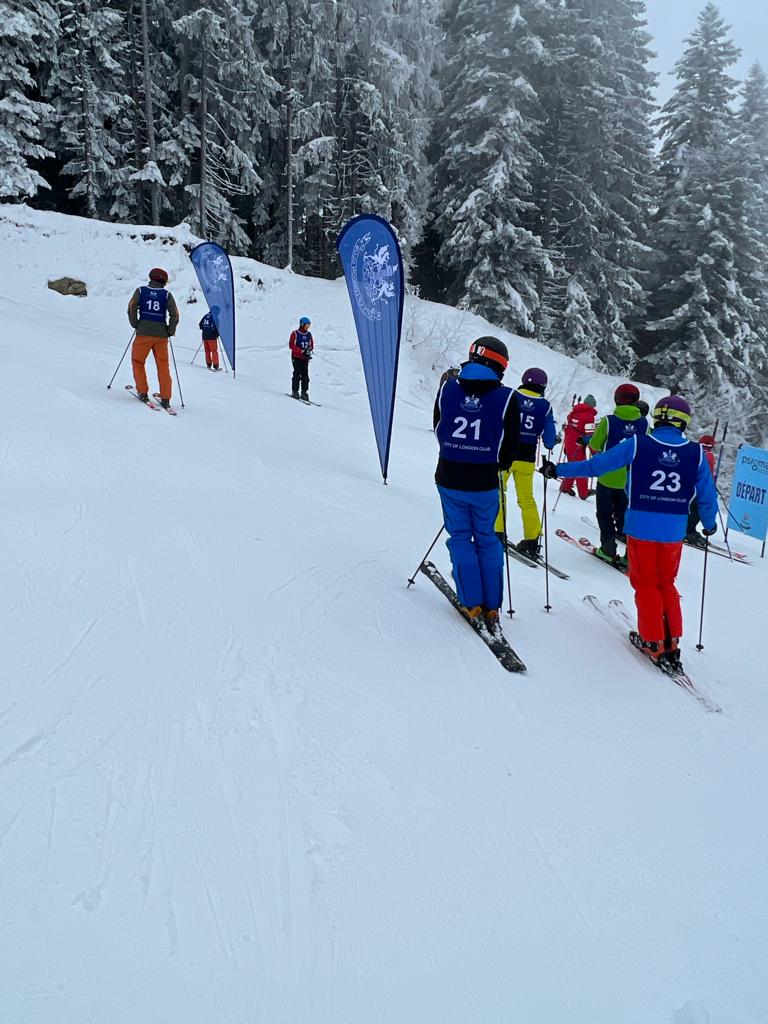 Competition Format
On the Wednesday, our partner charity Snow Camp organise a fun Team Triathlon made up of a team slalom, biathlon and snow shoe hike. The triathlon is open to everyone and teams are made up of 4, but if you are an individual please let us know and we will endeavour to slot you into a team with others. When registering for the ILSC, you can tick a box confirming you'd like to participate in the Team Triathlon, and then Snow Camp will be in touch! For more details about the Team Triathlon and the charity please visit snow-camp.org.uk/events/ilscteamtriathlon2024
On Thursday it's Qualifying Day. Your race number will be published in good time beforehand to ensure that you have plenty of time to arrive at the start gate. New for 2024 competitors will have the option of skiing a second qualifying run if they so wish. Start times and piste locations will be published here and via WhatsApp on ILSC Newsfeed.
Friday is our Race Day. Your best time from Thursday will determine your start time and bib number for Friday. Please ensure you collect your bib from the finishing hut before the racing starts and arrive at the starting gate in plenty of time before your turn. Please remember to return your bib to the finishing hut.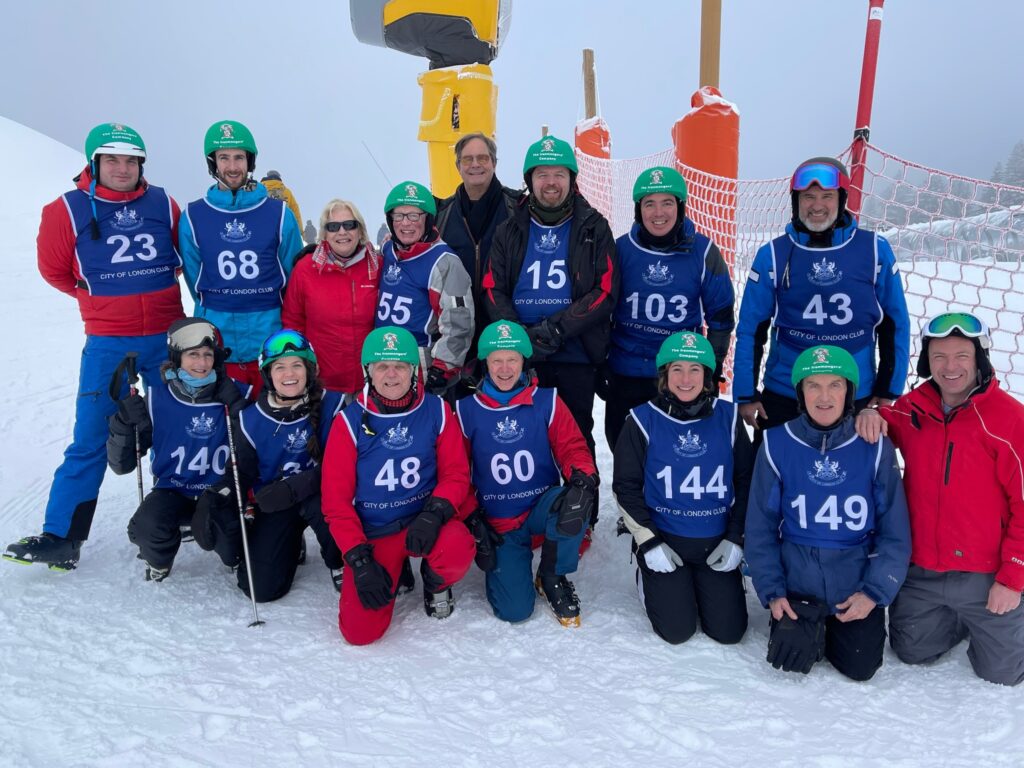 Individual Prizes
Fastest Young Guard (below 36 years and excluding guests).
Fastest Competitor (age 36-60 excluding guests) in Giant Slalom.
Fastest Veteran (above 65 years excluding guests) in Giant Slalom.
Fastest Master/Past Master etc, on age handicap.
The Actuaries Handicap Cup – Fastest Male and Female Guest in all events​.
The Air Pilots' Trophy – The most improved skier from last year to this year.
The Apothecaries Trophy – Oldest competitor completing the course.​
Team Prizes
Best Livery Company team.
Stationers Prize – Best Livery Company Team where the combined age is over 200 years.​
Leathersellers Cup – Best Ladies Team (excluding guests).​
Vintners Trophy – Best Livery Company after the Giant Slalom​.
Shipwright's Ark Trophy – Best Court Team.​
The Carpenters' Prize – This trophy is to celebrate participation in the competition, rather than speed. The Carpenters wish to have this prize, 'The Wooden Skis', to the "slowest participating team, but not necessarily because they are slow". So the result could be age-adjusted – and at the discretion of the committee (to avoid skulduggery)!
Previous Results
See all the results from the previous years – Will you be taking home a trophy for next year?
Safety
It is a condition of taking part that everyone agrees that by doing so they take complete responsibility for their own safety and that they will follow the rules below. Skiing and in particular racing are inherently dangerous activities. The fact that a course has been set does not mean that it is safe for you to ski down it. Your safety is far more important than any result. Only you know your own ability and it is YOUR decision and only YOU decide whether it is safe for you to take part or not in the prevailing conditions. The race is set and run by the ESF and you must obey their directions. The organisers are here to promote and coordinate the event and cannot accept any liability for your safety or any injuries sustained.
Rules
All competitors must be members of a livery company or a member's guest that hasn't raced in previous years and be 18 or over.​
All racers compete as individuals (either as Company members or guests of a Company). If a Company has more than 3 members competing, they have a Team. If a Company has more than 6 members they have 2 teams etc. The team members do not have to be nominated before the race. The fastest 3 members' times score towards the A team for that company, the next 3 fastest become the B team etc. Guests can not race as part of a team.
All competitors and supporters (including guests) must register using the form on the registration page. The fees should be paid as directed by your team captain. It may be possible to take substitutions or last minute entries up to the 10th of January at the sole discretion of the committee and if space permits.​
All competitors must have insurance to include cover for non professional ski racing and training. This must include Piste Rescue, Medical Expenses, Repatriation and Third Party Liability as a minimum.
Ordinary holiday ski insurance does not cover race training, racing or competition.
All competitors are to wear helmets while racing or training and Lycra type skin tight suits are not permitted.
All competitors must wear a race bib to be collected from finish hut at the bottom of the course or as detailed in the briefing. The race number must not be obscured. Please be very careful to take the correct bib as the alternative causes extreme confusion. Allow plenty of time for collecting your bib and getting back to the start in time for your start slot. Any racer who reports to the start gate after his/her turn (according to the start list) may be disqualified. They will however be 'slotted in' if it is possible and if time permits. After you have raced, please immediately return your race bib to the rack at the finish. ​
While inspecting the course(s), competitors must not ski through the gates or 'mirror' the course. Side slipping down through the course is allowed. Turning in the gates before your race run is strictly prohibited. Infringement of these rules may lead to disqualification. If you see anyone doing this please warn them. During course inspection and especially during the race do not ski through the finish unless you are actually competing as you will mess up the timing. During the race, if you fall do check before setting off again that the next racer is not about to hit you.
The area below the finish must be kept clear at all times. Remember that racers finishing may be tired and might find it hard to stop or avoid someone standing in the finish area. The run-off area should be clearly marked and should be vacated as soon as possible to avoid risk of collision with the next competitor.
​If any disputes arise, they must be reported to the Race Committee at the finish within 30 minutes of the end of your run. The Race Committee's decision will be final.
​Results of the Slalom and Start List for the GS should be available at the Thursday evening reception. The GS results will be announced at the prizegiving on Friday evening.
​The Race Committee has the right to postpone, cancel or change the race or timings due to adverse weather or snow conditions without refund. The committee would however try to arrange alternative competitions/activities.
On race days, participants are requested NOT to ask the ESF to make changes without permission from a Committee member. The Finish Hut is strictly out of bounds to competitors. Racers may only race with their published number unless expressly instructed by a Committee member.
​Check the details that you have submitted on your registration form very carefully and let us know if you (or we) have made an error. A list of participants and details will be available from December – check it carefully. At least one person has missed out on winning a prize when they had entered their position in the company incorrectly. Changes can not be made after the start list has been finalised.
* Boarders are most welcome to join us and compete, but the competitions are aimed mostly at skiers, so no concessions are made for boarders. No special courses will be set. They will have to cope with the ski-race formats and courses.